Resilic – The High-Performance Sole System the World Thought Impossible
Discover Resilient Lightweight Shoes with Optimal Shock Absorption, Stability & Durability
Runners come in all shapes and sizes with varying fitness levels and goals. But whether for fitness or competition most people want a running shoe that provides:
| | |
| --- | --- |
| Comfort | A comfortable runner is a happy runner |
| Protection | To reduce impact at each foot strike |
| Efficiency | For better coordination and good form |
| Stability | Prevents twisting of the ankle and foot |
| Durability | Sole material that won't lose its bounce |
| Lightness | Weight reduction for enhanced speed |
Existing footwear technology offers some of these features. However, there's a clear trade-off between cushioning and stability – that is, soft shoes are less stable.
Another problem in standard running shoe design is the over-reliance on a soft heel. This causes many runners to slam their heel down, increasing the braking and impact forces with every step.
The Resilic sole system reduces the strain on the musculoskeletal system when walking, running and jumping.
Footwear with the Resilic sole system brings the promise of added joy for millions training for health and fitness allowing them to add distance and speed to their run.
What's also exciting is the very same technology can provide the propulsion elite athletes seek as they strive for world-class performance on the road, on the trail and even on the basketball court.
The aim now is to combine our know-how with a major sports brand and renewable material suppliers to bring cutting-edge and ecologically-sound footwear solutions to market worldwide.
SCIENCE
PATENT DOCUMENT
Patented technology: click the image to read it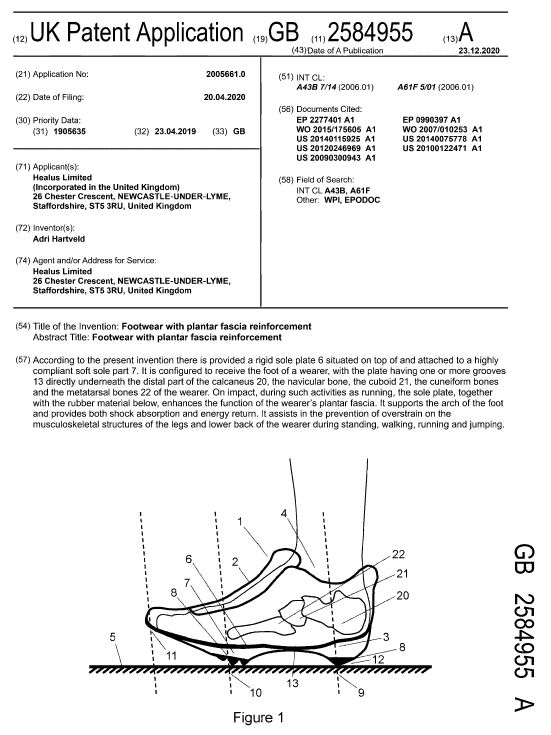 See Dynamic Footwear research paper below in the table list
---
Sole Force Distribution with and without Resilic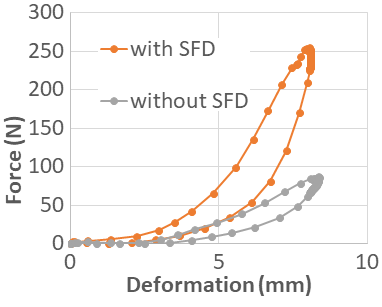 Sole Force Distribution with and without Resilic
The Resilic sole system gives 2.27 – 3.25 times more protection in a 30-120 gram lighter shoe!*
** See Sole Force Distribution research paper below
The following highlights the science behind the patented Resilic sole system by Healus Technology.
NOTE: Research articles have links to individual sub-page – click on the article text. For asterixed items, please scroll back up to view.
ENVIRONMENT
The Resilic sole system has been developed in response to the increasing damage to the environment caused by fast fashion and fossil fuel based shoe sole production. With growing awareness and public demand for greener products, we have created solutions for a circular economy. Together with sustainable material suppliers the shoes will be made durable, recyclable and partially bio-based. Key design features include using:
Recent media coverage has highlighted how dirty apparel and shoe manufacturing can be. With the Resilic sole system it's now possible to design shoes with sustainability at front-of-mind yet with no compromise in performance. And, best of all, running is perhaps the most earth-friendly exercise you can do!